FAE DML HY 125 Mulcher suit Excavators 5 to 13 Ton
Italian Manufactured. This is the Rolls Royce of Excavator Mulchers. Equipped with 17/34cc variable manual displacement hydraulic piston motor with relief and anticavitation valve. The DML/HY is the smallest, most versatile fixed hammer excavator mulcher on the market.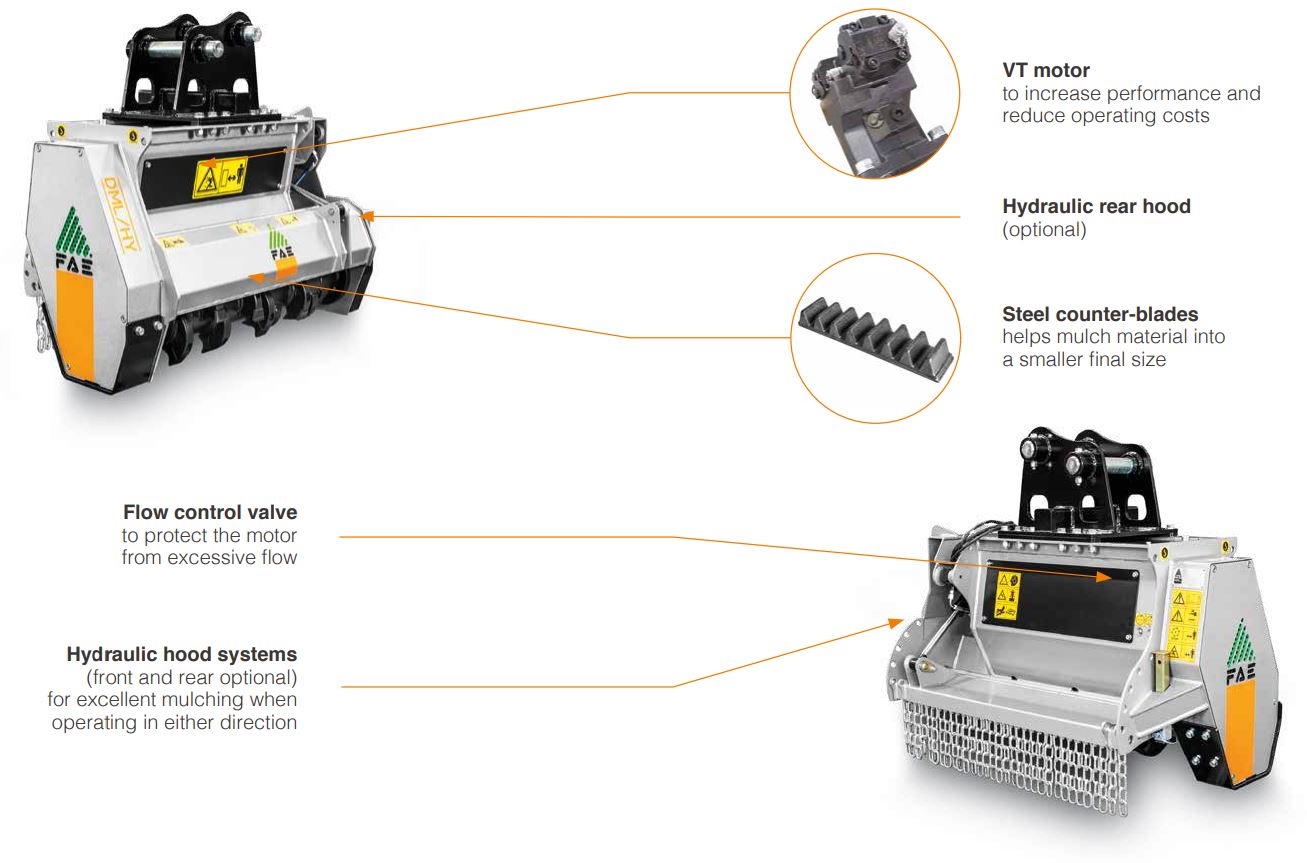 1240mm Cutting Width. The compact size makes this mulcher suitable for a very wide range of excavators, from 5 tons up to 13 tons. The hydraulic motor is manually adjustable to work with different types of excavators using alternative flow options. The frame presents two mulching doors, one hydraulic and one mechanical. The front one is used for mulching trees, the rear one for mulching uniform fibrous material which does not need to be cut down. Equipped standard with Blade E Teeth, with the option to go to the Blade E/HD Teeth:

Extremely heavy duty construction 510kg attachment weight. Standard equipment as per below:
Includes:
Double cage frame
17-34 cc mechanically variable displacement piston motor with built-in valve block
Flow control system valve
Protection chains
Hardox toothed breaker bars
1 hydraulic door + 1 mechanical door
Diverter valve with control box and wiring to the operator's cabin (12V or 24V) to operate 1 hydraulic door from the cab by means of a switch box
E/HD type blade fixed hammers
1240 mm working width
12 month warranty
Max grinding diameter 120mm
Head Bracket
VT Model Upgrade? These VT models have the automatic variable torque motor that changes capacity depending on hydraulic pressure generated during the mulching application. Lighter material mulching has it operating at the lower motor capacity of 38cc for higher rpm and then it will change to 58cc for an increase torque when required.
Note: it is the customer's responsibility to ensure hoses supplied are the correct length to suit their machine. Hoses and couplings not included in quoted price (pressure, return and case drain). Case drain required. For the diverter kit to operate the door, the cables have to be run through the boom of the excavator inside the cabin. Most of the time,  customers want these cables wired into the joystick rather than using the control box supplied. In this context, an auto electrician is required.