To suit all Skid Steers such as Bobcat, ASV, Caterpillar, Kubota, Terex, Takeuchi, Case, Mustang and Deere.
DIGGA Stump Grinder
USA manufactured. Heavy duty stump grinder to suit Skid Steers. Remove tree stumps into wood chips quickly with the
Digga Stump Grinder. Carbide tipped teeth and fingertip controls have been designed into the unit to allow the operator to adjust the speed of swing and lift functions to accommodate the machine & operator's maximum performance. The Digga stump grinder can be used for land clearing, stump grinding, and the shredding tree stumps into wood chips quickly with Carbide tipped teeth and in-cab fingertip controls.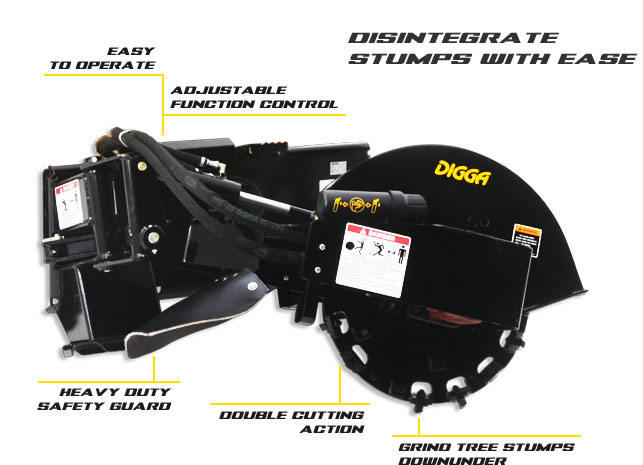 Includes
2.2m hydraulic hoses & flat face couplers. Let us know your skid steer at time of order and frame will be supplied to suit.
Features
Controlled from inside the operator's compartment with an independent control box
An adjustable speed control has been designed into the manifold to allow the operator to adjust the speed of swing and lift functions to accomodate the machine & operator's maximum performance
Tooth pattern allows side to side and vertical cuts
Grinds stumps up to 255mm below ground
60 degree range of motion covers 1100mm in a single sweep
Easy access to all drive components for maintenance
Suitability
Skid Steers