To suit all Mini Loaders such as Kanga, Dingo, Boxer, Toro, Vermeer, Multione, Bobcat.
DIGGA Mini Hoe
Australian manufactured. Heavy duty skid hoe to suit Mini Loaders.  Turn your Mini Loader into a powerful Backhoe. Dig trenches up to 1.27m deep. Mounted on a manual side shift frame, our fast attach Skid Hoe allows you to quickly switch between your attachments. The 12" bucket opens to fully extended position for easier operation. Tapered, Folded, sectional boom design provides greater strength. This versatile inexpensive attachment for digs trenches up to 1.27m deep & 300mm wide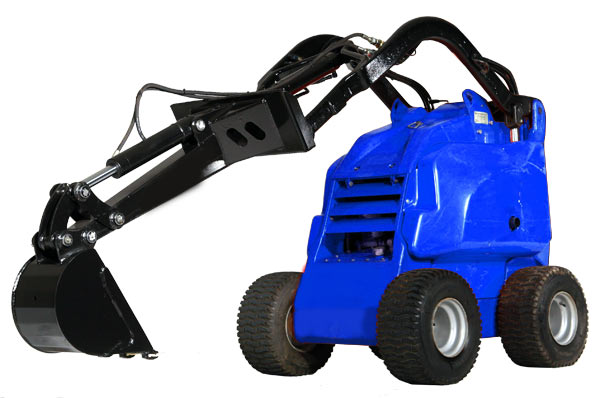 Includes
2.2m hydraulic hoses & flat face couplers. Let us know your mini loader at time of order and frame will be supplied to suit.
Features
Dig trenches up to 1270mm deep
Bucket curl feature
Standard with 12" (300mm) bucket
Fits most major mini loader brands
Unique yoke design ensures maximum open of the cylinder providing full reach and optimising clean out of bucket.
Optional manual side shift frame for off centre digging available for small skid steers
Stand on machines frame is fixed
Does not require stabilizers
Suitability
Mini Loaders