To suit all Tractor Front End Loaders (FEL) such as John Deere, Massey Ferugson, Case IH, Kubota and New Holland.
DIGGA Hydrive XD Trencher
Australian manufactured. Heavy duty trencher to suit Tractor Front End Loaders (FEL).  Get ready for some serious trenching with Digga's Hydrive range of Trenchers. Choose from standard models up to 1200mm digging depth – Ideal for skid steer loaders and tracked loaders up to 3.5 tonne, or choose from the bigger XD models with a wider cutting width perfect for larger loaders up to 8 tonne. Trencher usage ranges from pipe laying for irrigation, to underground power & communications, road repairs, and general construction.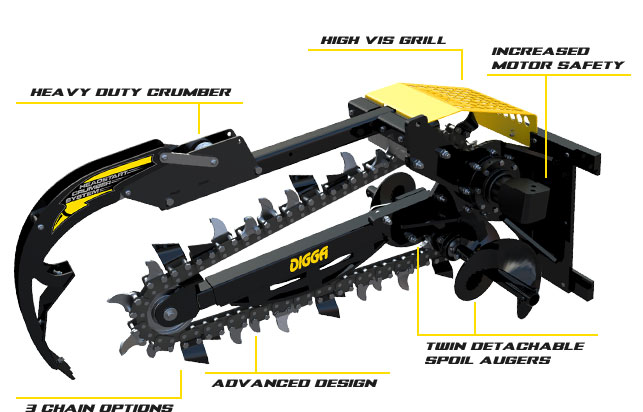 Includes
2.2m hydraulic hoses & flat face couplers. Let us know your tractor at time of order and frame will be supplied to suit.
Features
Unique drive system positioning – drive System positioning allows for more usable horse power, providing greater efficiency for serious trenching. The EATON motor is housed above the spoil, protecting from rocks and debris
Heavy duty crumbing system – start trenching with the crumber in-ground. A super heavy duty spring ensures the crumber stays engaged with the bottom of the trench for maximum spoil removal from start to finish
Remove spoil from both sides – twin Spoil Augers remove finely crumbled spoil to both sides of the trench for a cleaner finish. Both augers can be detached when needed for close-up trenching to walls or fences
Trench faster & safer with a high visibility grill – a High Visibility Grill lets the operator see what thery are doing regardless of the trencher's angle, helping them to work faster and safer.
Advanced design for minimal ground disturbance – creates finely crumbed spoil for effective re-compaction and minimal ground disturbance
Anti-back flex chain design – you can be guaranteed of quality and superior performance with our Anti-back Flex design. It prevents the chain links from flexing back in tough soil conditions
Chain Options
COMBINATION – Best used in dry, hard or medium ground conditions
DIGGATAC (ROCK) – Best used in hard or frozen ground conditions and asphalt
Suitability
Tractor Front End Loaders (FEL)
Warranty
3 Year Gearbox Warranty & 2 Year Motor Warranty