DIGGA Dual Mount Slashers
Australian Manufactured. The DIGGA Slasha is a slashing attachment for Skid Steer Loaders that can be used for the effective cutting and clearing of grass and low ground shrubbery. It comes complete with hoses, couplers and fixed mount multifit frame to suit parent machine with the option of a side shift frame. Ideal for landscaping, agriculture, roadway maintenance, parks maintenance, and general slashing.
4ft suits up to 3 Ton Excavators & 20-40LPM Skid Steers / 5ft suits up to 5 Ton Excavators & 50-100 LPM Skid Steers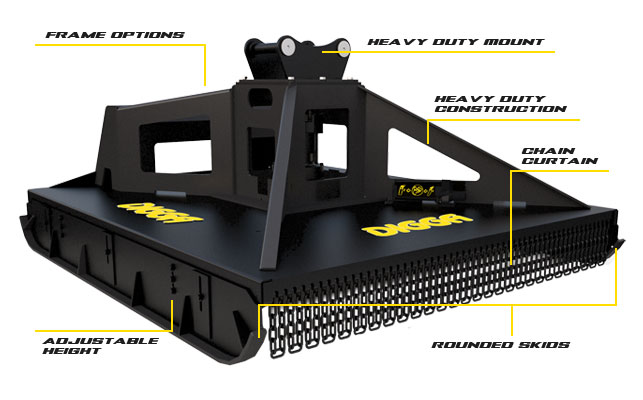 Not sure whether to purchase the 4ft or 5ft Dual Mount Slasher? It depends on what machine will be using the slasher more. The 4ft model is more suited to excavators, where the 5ft model is perfect for skid steers due to the addition of adjustable skid shoes and the greater width. As a slasher is usually a skid steer attachment with occasional use on an excavator (the excavator is perfect for slashing banks, gullies or other hard to reach areas), many customers purchase the 5ft model so that they can achieve a larger cutting capacity and cutting width. The only important thing to consider is that the 5ft model is only recommended on machines 5 to 6 ton operating weight.
Specifications:
Available with fixed or side shift frame
Adjustable height 40 – 140mm
Chain curtain for debris suppresion
Twin blade, dual rotation, single cutting bar
Heavy duty construction – built for Australian conditions
Optional jockey wheel (for use with skid steer loaders only)
3 width options; 1250mm (49″), 1500mm (59″), 1800mm (70″)
Models also available for: mini loaders, tractors, excavators
Rounded side skids for smoother manoeuvrability over uneven terrain
Note: it is the customer's responsibility to ensure hoses supplied are the correct length to suit their machine.  Multi-fit frame and flat face couplers supplied as standard. Please let us know if you have special requirements