To suit all Backhoes such as JCB, Caterpillar, Case, John Deere, Komatsu, New Holland and Kubota.
DIGGA Bigfoot XD Trencher
Australian manufactured. Heavy duty trencher to suit Backhoes.  Ideal for excavators to 4.5 tonne, skid steer loaders, and mini machines, the Bigfoot Trencher can be used for pipe laying for irrigation, underground power & communications, road repairs, general construction. 1200m maximum dig depth, choose different teeth configurations and width chain.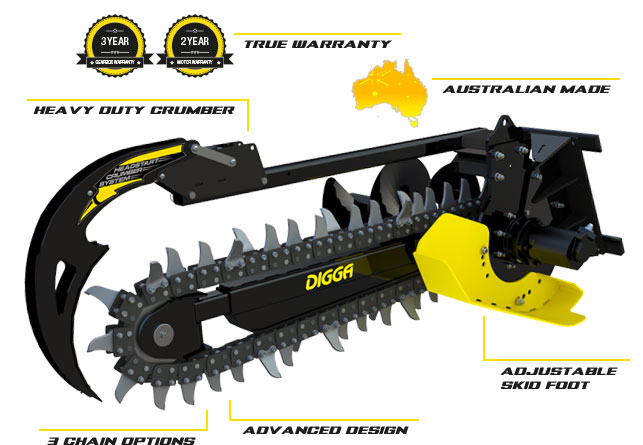 Includes
2.2m hydraulic hoses & flat face couplers. Let us know your backhoe hitch dimensions at time of order and hitch will be supplied to suit.
Features
Adjustable depth skid foot – Precision depth control ensures the spoil auger has optimum ground clearance. Preset depths range between 450-1200mm for standard flow machines, and 600-1500mm for high flow machines.
Heavy huty crumbing system – Start trenching with the crumber in-ground. A super heavy duty spring ensures the crumber stays engaged with the bottom of the trench for maximum spoil removal from start to finish
Skid foot can be seen from cab – The new design foot can be clearly seen from the cab and allows the operator to see when the trencher is in the correct trenching position. No need for a spotter
A cleaner workside of the trench – Digga's new foot design also feeds overburden back onto the chain, transferring it to the spoil auger for a cleaner clearer work side of the trench.
Anti-back flex chain design – You can be guaranteed of quality and superior performance with our Anti-back Flex design. It prevents the chain links from flexing back in tough soil conditions
Chain Options
EARTH – Best used in soft ground like earth and clay
COMBINATION – Best used in dry, hard or medium ground conditions
DIGGATAC (ROCK) – Best used in hard or frozen ground conditions and asphalt
Suitability
Backhoes
Warranty
3 Year Gearbox Warranty & 2 Year Motor Warranty