To suit all Skid Steers such as Bobcat, ASV, Caterpillar, Kubota, Terex, Takeuchi, Case, Mustang and Deere.
DIGGA Pallet Forks
Australian manufactured. Free floating pallet forks to suit Skid Steers. A floating tyne design offers unparalleled safety for skid steer loaders. Unlike forklifts, skid steers are able to crowd their pickup past horizontal allowing the machine to be placed in an unsafe position which could cause it to tip over. Furthermore, putting the machine's weight on the tynes may cause them to weaken or break. If you care about safety then a floating tyne design is the only safe choice for skid steer loaders.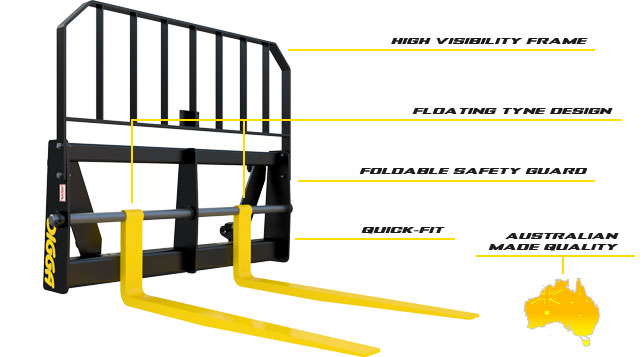 Includes
Pallet fork frame & set of tynes. Let us know your skid steer at time of order and frame will be supplied to suit.
Features
Security guard folds down for compact storage
Heavy duty, quality Australian made frame with added stability
Load rating tested to ISO 2330 Standard
Machine Entry Step can be mounted on either side
Easy width adjustment with lockable tyne positions
1500kg and 1800kg load ratings available
Slim design packaging for easy handling, shipping and storage
Suitability
Skid Steers
Floating Tyne Design